"Stay Real"… Lodging and Conferences
Monroe County innkeepers strive to make your stay unforgettable. Each place has its individual flavor. You're provided a destination; not just an overnight stay.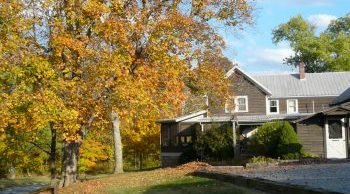 The Farmhouse at Creekside
227 Oliver Ballard Road, Greenville, WV 24945
304-832-6433
rentals@creeksideresort.net
Located along beautiful Indian Creek, The Farmhouse at Creekside is just the place to unwind while in rural Monroe County. The Farmhouse offers five rooms, two of which have private entrances with their own bath and kitchen. The grounds and Skyeroom are available for weddings, conferences, and parties. This tranquil location is just three miles from US 219!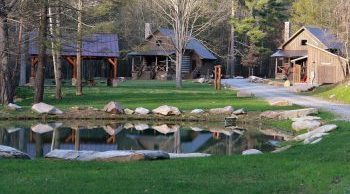 Four Fillies Lodge
219 Clyde Rule Street, Peterstown, WV 24963
954-771-4191
www.fourfillieslodge.com
Situated on 78 idyllic acres, Four Fillies Lodge is a one-of-a-kind property located in Monroe County, West Virginia. Its sophisticated charm and elegance makes it the premier privately owned resort and wedding venue in southern West Virginia. This charming and exclusive resort nestled on a beautiful winding creek provides a picturesque retreat for families and couples who desire to connect with nature amidst a landscape of impeccable rustic elegance and comfort.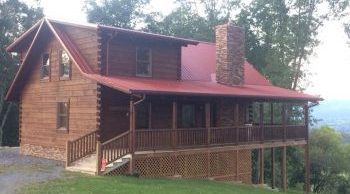 Grandview Cottages
164 Grandview Lane, Greenville, WV 24945
304-832-6552
grandviewcottages@yahoo.com
www.grandviewcottagesllc.com
Luxury cabins in the Appalachian Mountains of West Virginia. Grandview Cottages sit high atop a ridge with affords visitors breathtaking views. Cabins are spacious and perfectly furnished. This retreat is the perfect place for family and friends to gather and enjoy the best of what the region has to offer. Coming soon, "The View." This outdoor entertainment/event venue will be a one-of-a-kind reunion location with an outdoor kitchen and fireplace in an idyllic setting. Grandview Cottages subsidiary will also be offering exclusive hunts for upland birds, Russian boar, white tail and gobbler hunts starting this fall.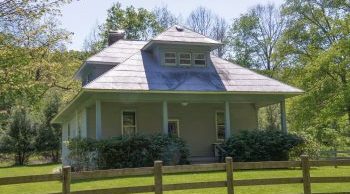 Larew Cottage
3548 Hans Creek Road, Greenville, WV 24945
304.832.6827
irene@larewcottage.com
www.larewcottage.com
Home with sleeping accommodations for 13. This Arts and Crafts home was built in 1920 and updated with new kitchen and bath in 2000. Very private in a rural community. Several state parks nearby as well as skiing, walking trails, fishing.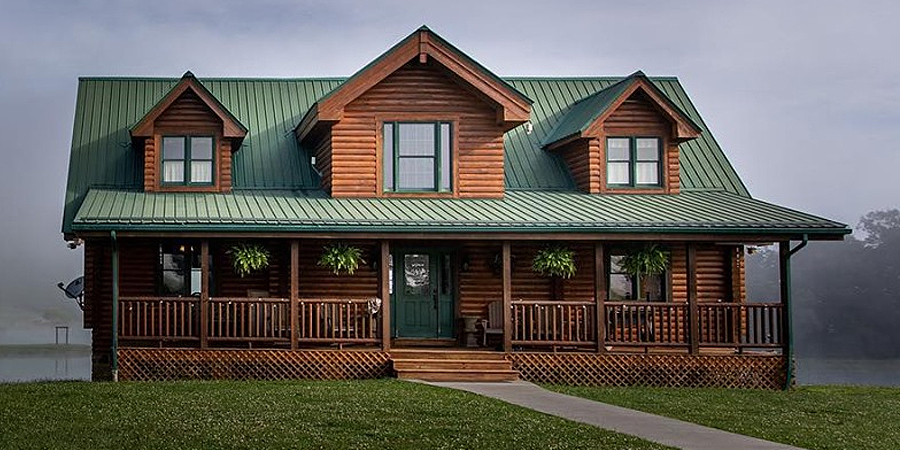 Mountain Meadow Hunting Preserve
364 Mountain Meadow Lane, Greenville, WV 24945
304.832.6635
hunt@mountainmeadow.net
Hunting Site

Nestled on over on 600 acres of stunning Monroe County farmland, Mountain Meadow is a privately owned and operated high fence hunting preserve. Offered are big game hunts for trophy white tail deer, fallow deer, red stag, elk, buffalo, wild boar, rams and more. When staying at Mountain Meadow, guests have the opportunity to hunt, fish, kayak, and paddle boat on the beautiful lake. Mountain Meadow defines the term rustic elegance. The beautiful upscale lodging, majestic rolling hills, and spectacular views, the farm is the perfect outdoor wedding venue. Wedding season at Mountain Meadow runs June through August.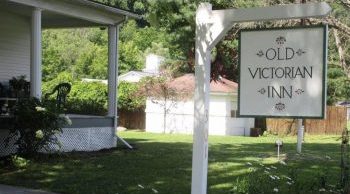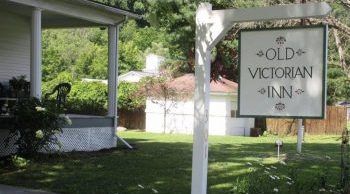 Old Victorian Inn B & B
301 Railroad Avenue, Alderson, WV 24910
304.646.9199
www.oldvictorianinn.com
Stay in one of Alderson's most unique and beautiful homes, now open as a bed and breakfast. This 1903 victorian style inn is just steps from the Alderson Train depot, shops, and the magnificent Greenbrier River. If you are looking for a quiet town to spend some time in, this is the perfect spot. Available rooms are air conditioned with wifi, private bathrooms, and other comforts of home.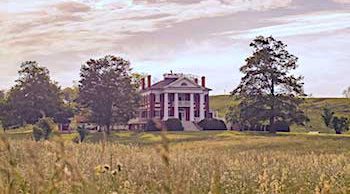 The Ranch House at Elmwood
184 Elmwood Lane, Union, WV 24983
434.422.0258
www.elmwoodestate.com

The ranch house affords you a warm and cozy place to perch in the beautiful countryside for a few nights. The single floor ranch house is located on the grounds of the great 19th century plantation, together with the restored Elmwood mansion and historic outbuildings. The ranch house combines the convenience of staying in the environs of Union with the tranquility of living in the country. It features scenic views from every room. House sleeps six people.
The stately mansion is operated as an elegant events and wedding venue.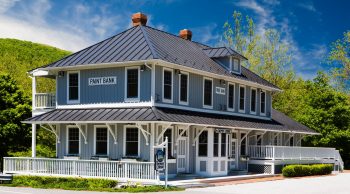 The Depot Lodge
Hwy 311, RR 1 Box 64, Paint Bank, VA 24131
540.897.6000  800.970.3376
mikell@depotlodge.com
www.depotlodge.com
The train depot dates back to 1909, when Paint Bank was the final stop of the Potts Valley Branch line of the Norfolk & Western Railway. The Depot and other historic buildings have been renovated and converted into charming lodging, while maintaining much of the original architecture. In addition to the depot, lodging is available in an N & W Caboose, the Section Foreman's Cottage, the Company House, and The Pondrosa Log Cabin. Reserve for family reunions or get-togethers or take advantage of the outdoor adventures provided by Potts Creek Outfitters. Swinging Bridge Restaurant across Highway 311 from Depot.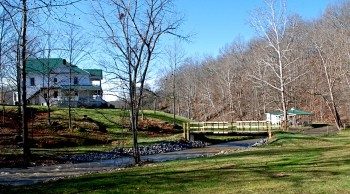 Willow Bend Bed and Breakfast
Buster Brown Road, Union, WV 24983
304.772.3454
vips@willowbendbedandbreakfast.com
willowbendbedandbreakfast.com/
Quiet, romantic and quaint. Willow Bend Bed and Breakfast is the perfect place for a country get-away or a intimate weekend with a loved one. Located just miles outside of Union, West Virginia, there is much to do in the surrounding area. This location hosts family reunions, small weddings, business retreats, and other private events. Contact them for more information on their extensive amenities and services.