"Adventure" in a place called Monroe…
Monroe County is abundantly blessed with open spaces for outdoor recreation. Click on the West Virginia Division of Natural Resources links for complete information on hunting and fishing seasons and regulations.
Hiking, Biking & Birding
The popular and famous Appalachian Trail, and the more local Allegheny Trail, leads back packers and day trippers along the mountain ridge tops. Hikers will also find established trails in Moncove Lake State Park, the George Washington and Jefferson National Forest, and the Bluestone Wildlife Management Area.
Allegheny Trail
PO Box 4042, Charleston, WV 25364
304.772.3003 x15   866.677.3003 x15
wvscenictrailsassn@yahoo.com
Visit Site
Southern terminus originates from the Appalachian Trail near Pine Swamp Ridge above the Sugar Camp Farm. Trail follows the ridge of Peters Mountain northeastward to Laurel Branch, near Sweet Springs. When completed, the footpath will extend northward through West Virginia and into Pennsylvania.
Appalachian Trail
Harpers Ferry Center, Harpers Ferry, WV
304.535.6331  304.535.6278
This famous Maine-to-Georgia footpath follows the crest of Peters Mountain from the southern Monroe county line with Virginia to a point above the Sugar Camp Farm, a part of the George Washington and Jefferson National Forest. The trail is best accessed from Monroe County by hiking up the Groundhog Trail from the Sugar Camp Farm. Monroe County is one of only two counties in West Virginia which can claim a portion of the Appalachian Trail.
Hanging Rock Observatory
PO Box 341, Union, WV 24983
304.772.3003 x15   866.677.3003 x15
info@travelmonroe.com
Visit Site
Situated atop Peters Mountain, the site was once manned as a fire observation post of the national forest. Now used by hawk watchers to observe migrations in the autumn, the vantage point rests at an elevation of 3,812 feet, nearly 2,000 feet above the valley floor below. The lookout offers an outstanding panorama of Monroe County, and on clear days views can extend well into Mercer, Summers, and Greenbrier Counties in West Virginia, and Allegheny, Craig, Roanoke, and Giles Counties in Virginia. The observatory is reached via a 40 minute walk along the Allegheny Trail from the mountaintop parking lot along Monroe County Road 15.
Cycling Scenic Monroe
Monroe is a great place to explore on two wheels. With the exception of U.S. Route 219, traffic density is fairly light throughout much of the county. Although Monroe is not as mountainous as other parts of West Virginia, it is far from flat, which makes it the perfect place for cycling enthusiasts to explore. Find routes, cue sheets, and descriptions at cyclingscenicwv.com. To find information, look under "Find Route," then click, "By County," and finally, "Monroe."
Potts Valley Rail Trail
This is a 4.5 mile route for hikers and bicyclists. From the "upper" trailhead at the southwest end, the trail is mostly along the railroad grade of the historic Norfolk and Western Railroad. At the point where the historic Crosier Trestle crossed a large cut, the trail swoops down to Crosier Branch and then angles around the mountainside to the "lower" trailhead. A bit of wilderness. A dab of history!
Parks and Forests
Monroe County has one state park, 428 acres of the George Washington and 18,530 acres of the Jefferson National Forests, a one-of-a-kind Nature Conservancy protected area, and a corner of a large wildlife management area.
Miles of country trails are available for family hiking, mountain biking, and horseback riding. Whether for a short day trip or a week-long stay, you'll enjoy the swimming, camping, hiking, biking, hunting, fishing and boating opportunities offered in the outdoor public areas in beautiful Monroe County.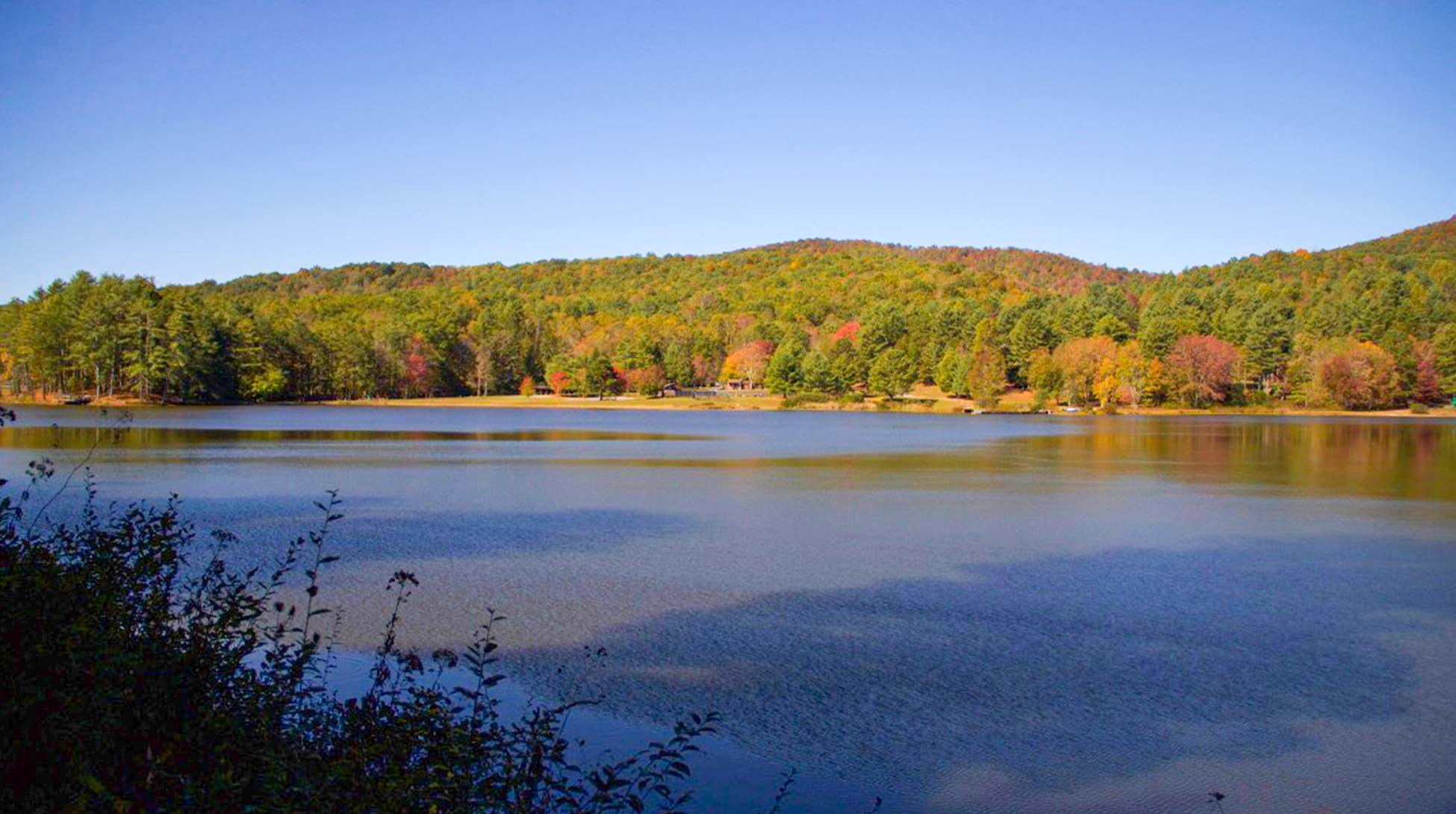 State Park – Moncove Lake
HC 83, Box 73A, Gap Mills, WV 24941
304.772.3450  1.800 CALL WVA
moncovelake@wvdnr.gov
Tucked away among the hills on the southeastern edge of the state, Moncove Lake contains 250 acres designated as a state park as well as an adjoining 500 acre Wildlife Management Area and a tranquil lake. Local groups and individuals have been using the park for years as a location for social outdoor gatherings, a place to do some quiet reading, take a stroll, or to put a fishing line in the water. The 144 acre impoundment provides a warm water fishery for largemouth bass, bluegill, and channel catfish. Campers have discovered the quiet, easy-paced life in this area and have been returning on a regular basis.
National Forest – George Washington & Jefferson
110 Southpark Drive, Blacksburg, VA 24060
540.552.4641 888.241.6669
bwalker02@fs.fed.us
These national forests extend into West Virginia, along the ruggedly beautiful Appalachians, after stretching from one end of Virginia to the other. Virtually every type of outdoor recreation activity you can imagine is available. Of course hiking, fishing, mountain bicycling and camping lead the way, but don't forget hawk watching at the Hanging Rock Tower, cross-country skiing, horseback riding, nature photography, and orienteering. Whether you are driving a back-country road, enjoying glorious fall colors, using binoculars to spot colorful neo tropical birds, or savoring the peacefulness of wilderness, remember that national forests are special places.
Wildlife Management Area – Bluestone
HC 65, Indian Mills, WV 24935
304.466.3398  1.800 CALL WVA
bluestonewma@hotmail.com

Location of the old ferry crossing of the New River; now a part of the Bluestone Wildlife Management Area. Visitors offered a variety of outdoor recreational opportunities on 17,632 acres. Being adjacent to Bluestone Lake, the state's second largest body of water, the area offers guests boating, canoeing and fishing opportunities. Hunting is offered due to the wildlife management area status, and Bluestone has over 330 primitive campsites and picnic sites. Avid fishermen can enjoy float fishing and stocked trout fishing in Indian Creek. Hiking and equestrian trails are also popular.
Fishing
Fishing is extremely popular in the countless streams that flow out of the mountains! Many of these cold and clear streams are on the state trout stocking program.

Potts Creek & S. Fork Potts Creek
2006 Robert C. Byrd Drive, Beckley, WV 25801
304.256.6947
mscottdnr@charter.net
Regular stocked put and take streams. Stocked with trout once each month February through May.
Second Creek Fly Fishing
Catch and release fly fishing in an isolated setting, along a little-used county road.
Pott's Creek Outfitters
Route 311,Paint Bank, VA 24131
(540) 897-5555
info@pottscreekoutfitters.com
Visit Site
Fly-fish on Potts Creek, a stocked, spring-fed stream of exceptional clarity. Beginners and experts alike will thrill at the beauty and challenge of this ancient sport on our beautiful waters.
Serenity Now Outfitters
207 W. Washington Street, Lewisburg, WV 24901
304.647.9779    1.877.WVFISHN
Specializing in guided fly fishing trips in the Greenbrier Valley and southwestern Virginia. Fly tying instruction and adventure planning also available.
Hunting
This region has long been a favorite of hunters of whitetail deer, black bear, ruffled grouse, and wild turkey. The George Washington and Jefferson National Forest lands are open to hunting during legal seasons, as is the Bluestone Wildlife Management Area (see above for listing). Private hunting preserves are also choice destinations.
Mountain Meadow Hunting Preserve
364 Mountain Meadow Lane, Greenville, WV 24945
304.832.6635
hunt@mountainmeadow.net
Visit Site
Hunting preserve situated on 600 acres of beautiful rolling mountain meadows and hardwood forests. Offering trophy white tail deer, fallow deer, red stag, buffalo, and wild boar hunts. There are various lodging opportunities on the property, all the comforts of home. The setting affords a beautiful view in all directions of the surrounding mountains. Take time to relax on multi-level decks or in a rockin' chair on the expansive porches. Special attention has been paid to handicapped accessibility with accessible tree stands and accessible rooms in the lodge.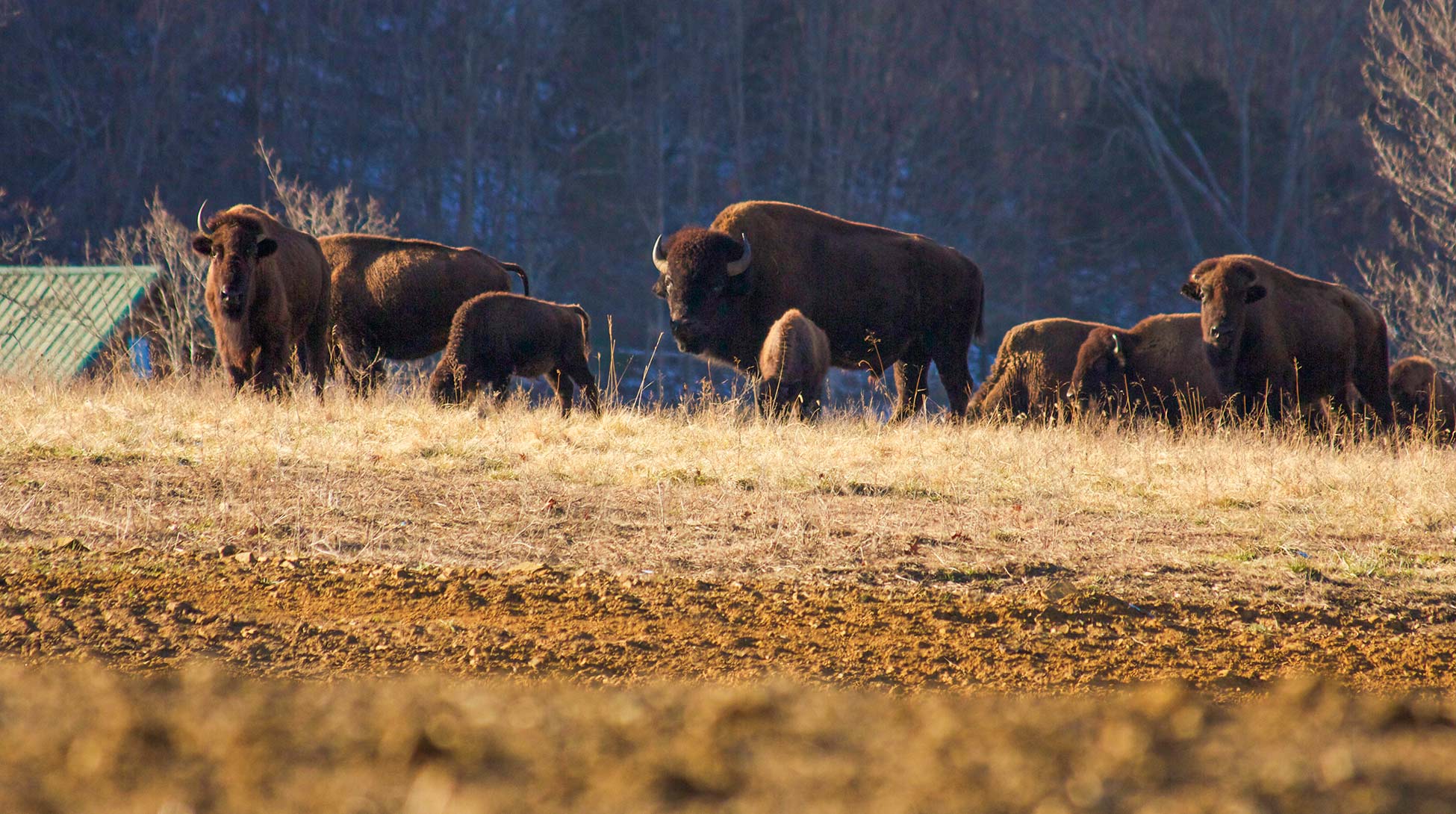 Organ Cave
Rt. 2, Box 417, Masters Road, Ronceverte, WV 24970
304.645.7600
janie@organcave.com
See Organ Cave! A National Natural Landmark/National Historic Landmark. Second longest commercial cave on the East coast. Site of first sloth found in America — the "megdonyx Jeffersonii." General Lee's underground headquarters and ammo factory. Largest collection of Civil War hoppers in USA. Two miles walking trips in the cave daily plus extended exploring expeditions. Lots of extra summertime activities on grounds
Fountain Springs Golf Course
93 Fountain Springs Drive, Peterstown, WV 24963
304.753.4653
fsgcdlb@suddenlinkmail.com
Discover the splendor of southern West Virginia's finest scenery where Russell Breeden's 6500 yard championship public golf course stretches across rolling hills with every level of golfer in mind. Eighteen hole course, putting greens, driving range, pro-shop, and snack bar. Open year-round. All major credit cards accepted. Tee times required.